Chaim Nahman Bialik was not only a famous poet but, was a contagious charismatic personality with a generous nature and true love of his roots and country. From his abode in Tel Aviv it was his life's work to bring out the best in people, to advise, mentor and help those in need. A creator to the full he was also the respected partner and developer of the book of best practices for the sec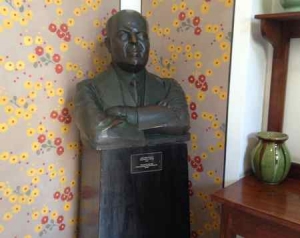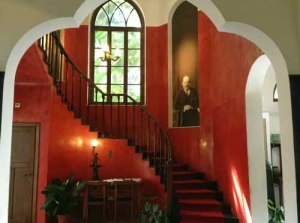 ular Israeli nation. He exposed himself to all as a great writer and as a warm benevolent personality, so those he came into contact with him admired and held him in the utmost regard. Chaim Bialik  was an iconic presence in a foundling Israel and developing Tel Aviv.
This was my first trip to Bialik's house after a serious renovation about six years ago and I loved it. In order to bring it back to the authentic state, much of the restoration relied on the sketches of Bialik's close friend and artist Glickbergs.
This grand house with an impressive well kept exterior belies a large ecletic interior which seems truly to represent the essence of the man. Up a flight of three stairs into a narrow hallway with inserts of painted flowers and an Italy tiled floor the to the boldly colored red lobby leads to the inner  residence. This too is an explosion of dramatic color with aristocratic royal blue, clear duck egg and grandiose green on walls, complimented by arched openings and striking hand-painted ceramics tiles loving created by the students of Bezalel Academy on the pillars.  The inner rooms are covered with brightly patterned floor tiles imported especially from Italy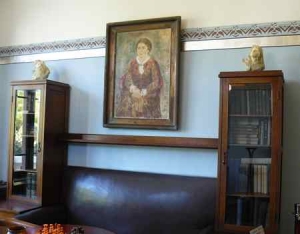 On the huge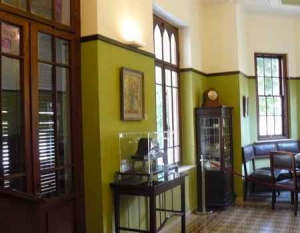 circular dining table sits a regal tea service ready for the guests he would have hosted for open discussions and banter. An ornate handmade clock with chimes of  the National anthem Hativah given to him as a present but which he was reluctant to accept ( he didn't like it!) is displayed in a proud position on a dark polished wood side table. This clock took 9  years to produce hence the prominent position! Walls and display units full of his works an memorabilia.
Ascend the narrow staircase enclosed by the passionate red Venetian plastered walls ( a finish perfected in Italy)to reach the upper floor. This was considered the private quarters, as the ground floor was always receiving guests and so more of a social area. Here the coloring's although adventurous are softened by ornamental stencils and in an effort to replace the original cork flooring, laid for its 'sound proofing' now underfoot is parquet (hard-wearing but squeaky!)
In what looks like a library or personal office there is one wall in completely lined with a diverse collections of books, included the Book of Legends ( edited by Bialik and  Ravnitzky). A large glassed windowed d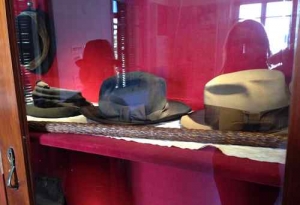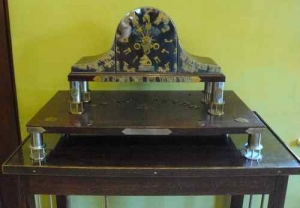 isplay unit contains a selection of Bialiks and his wife Manya personal belongings, such as her hats & handbags and his identifiable carved walking stick- very vintage! Heavy wood seated set in the paneled bay window is somewhat out of context with the rest of the house but still inviting.  However, even in this attempt of tranquility I understand that Bialik was not focused enough in this house to write poetry and did not do so for the 10 years he lived here but jotted some of his best stuff on a move to the 'country'
FYI
Born in the Ukraine in  1873, Bialik left the (then)  Soviet Union in 1921 with the intention of settling in Eretz Israel. However, he was forced to remain in  Germany to revive his failing Berlin publishing company and did not reach his destination. Only a couple of ye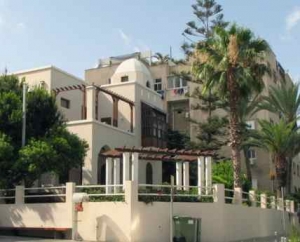 ars later in 1923, when he earned sufficient money and success from his specially leather bound four volume edition of collective writings (decorated by artist Joseph Budko) was he able to complete his journey. He purchased a plot of land in Tel Aviv and began building this landmark house. Bialik and his wife reached Tel Aviv in Mar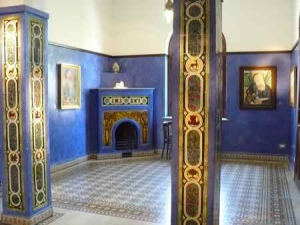 ch 1924, moved into the house in 1925 at Simchat Torah (Rejoicing with the Torah) and each year thereafter hosted a party to celebrate this significant date of their lives.
I was fortunate to have a  private tour and was delighted by the stories and explanations given to me by a Sweet amusing & very knowledgeable lady. If you appreciate history in color then do visit Bialik House and perhaps ask for a  tour. A little personal info makes this house haunt with memories!
Address: 22, Bialik Street
Tel: +972-3-5254530
Opening hours  Sun – Thurs: 9:00am – 5:00pm
Fri:  11:00am- 2:00pm
Admission:        20 NIS.