So very late for breakfast and no great appetite for lunch Sweet man suggested an outing to brunch. Brunch in Tel Aviv that is. Left to his own devices he impressed me by selecting a new-ish place owned by the same proprietors as Ouzeria, with the unforgettable name 'CookBook' Cafe.  Located on one of the trendy but tatty streets in the Levinsky district in southern Tel Aviv, this eatery gives a happy contrast to an otherwise unhappy looking road. A super cute casual joint where there's no need to step up from PJ'S if you are feeling sloppy (jogging wear will do). The decor is easy, very simple tables and chairs in primary colors. A bookcase complete with cook books so you can learn the skill  & remember the restaurant  name whilst eating and, a range of large condiment tins, such as virgin olive oil that have been up-cycled to extra seating..
 An atmosphere of nonchalance, current but calm. No loud voices just hushed conversations as if in hangover mode. Very popular with the local residents it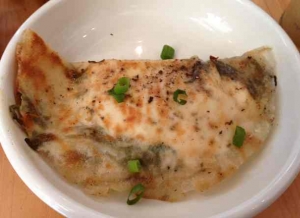 seems, who were, whilst we were there quietly queuing at the cold counter for creamy yogurt and deli delights based on a more health conscious diet. creme fraiche instead of cream etc.
So as you may have guessed no
posh cocktails
 in this establishment just smoothies and shakes which together with other sweet offerings are written on a huge blackboard on a wall directly in your face when seated in the waiting area. The menu is inventive, where Greek / Mediterranean ingredients are combined into delightful dishes which we had not yet tasted in Tel Aviv. Getting greedy hubbie decided to order several dishes, needing to satisfy his inquisitive culinary mind. So, we ending up sharing the munch at brunch. As I  am a traditional girl with a 'twist", I love brunch classics or updated versions of. My other half is more adventurous with his palate, so was well wooed and more impressed with his choices than me.
We ate stuffed savory pancake, a type of shashuka, fresh salad and in craving for a
Sweet
finish, I slurped through a straw to the very bottom of an ice cold chocolate morello cherry shake – which appealed to the juvenile in me!
 Not expensive.
♥The Cook Book Cafe
Address: 25, Zvulun Street
Tel: +972-3-533-0899
P.S No menu in English as yet