It's just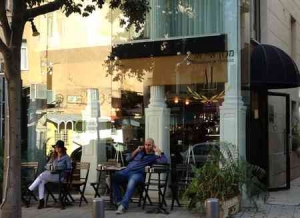 great to find a new cafe in Tel Aviv, especially in it's first week. As a self appointed 'member' of the Tel Aviv Cafe & Coffee culture in the city I really do appreciate how competitive this market is.
We have all suddenly become coffee connoisseurs and Cafe clients. The question therefore these days, is not limited between Tasters Choice, Elite or even rich black coffee . The new question from the select crowd is  which type of bean, from which origin and how it's been roasted. This snobbish pastime is akin to wine tasting – but I don't yet think there are coffee tours…
The pursuit of of funding the very best coffee in Tel Aviv is additive. It is as additive as caffeine itself! I for one love the stuff and always looking for new  cafes to try . Comparing one cappuccino to the next is not easy feat- but a very enjoyable one !
Yesterday, I met with my Sweet cousin who barely eats (compared to yours truly). So we compromised on coffee and a cake. She had heard of a new cafe on Montefior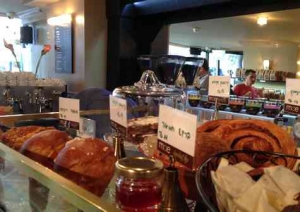 e, whi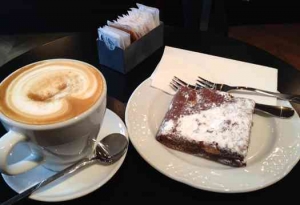 ch turned out to be an old cafe relocated. The cafe called Mae is one of a chain of three . This new one replaces the branch from the Carmel Market, going "upmarket" to this ever developing  street in Tel Aviv, in walking distance of Rothschild Boulevard.
The new cafe is still fairly close to the original, so their established clients should have no problem still buying their favorite roasted beans. New clients from the surrounding offices will definitely 'sniff" out this place and partake in the first coffee of the day.
Mae is all about 'specialty' coffee. It selects and roasts it own coffee beans and actually sells bags of the brew in the store. When Sweet cousin and I ordered our large cappuccinos we where ask how we preferred to take our drinks, (aside from the usual questions). What endeared me to the place was when we were asked at what temperature we would like  the coffee, awe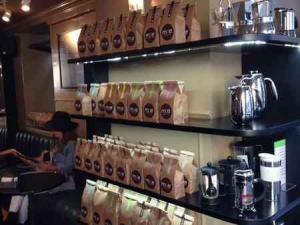 some! I smiled sweetly and replied 66 degrees and the lovely chap didn't blink an eyelid!  The coffees were pungent and pleasing and downed very quickly!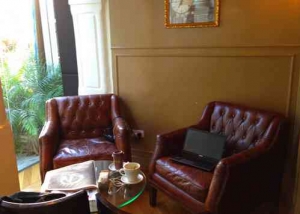 Mae is a unique cafe. First and foremost because of the excellent coffee flavors and attention to the detail when serving this beverage. The decor of the cafe is charming. Relaxing green faux leather padded seating, contemporary glass topped round tables and a 'gentleman's corner with antiqued buttoned leather armchairs. The bar area is all shiny and sleek, plus the mirrored wall add size and interest to the space.
The banquette seating area is a little more intimate . Fractionally hidden by the tall display unit, featuring a variety of bagged roasts & coffee making accessories.  Overhead a menu with descriptions of every version of coffee imaginable ! It sorely reminded me how little we really knew about the subject. After all, we are just ladies of this amazing land. City chicks who like visiting the new, updated or established Cafes selling great coffee in Tel Aviv.
♥ Mae – Specialty Coffee
Address:  16 Montefiore Street
Tel : +972-3-7298700