In Tel Aviv it seems that there is a fast growing niche market in
Boutique Hotels.
Only six months ago the Market House in Jaffa opened after laying dormant for  years.
I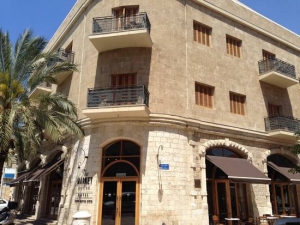 was 'encouraged' by a sweet acquaintance of mine to in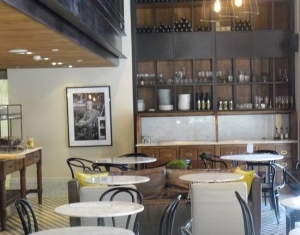 vestigate the much talked about hotel, situated in the heart of the flea market in a majestic building. Today, motivated by the weather to get up and go, off I trotted with my (fortunately) tolerant cousin in tow to have a nose round this swanky joint.
And swanky it was. A lovely majestic building amid a mass of Flea market toot, "vintage" furniture stores, ice cream parlors and local eateries. A renovation fit for a discerning audience and a pleasing visual respite from the still tatty (but now) trendy surroundings.
The interior on the ground floor reminded me of an 'old school' Gentleman's club (not that I have been inside one…). Squidgy sofas , winged backed fabric chairs, metal board game, retro oval coffee tables and shelving with numerous books and ornaments. The breakfast area was awash with small white topped marble tables and dark parlor chairs backed by a tastefully constructed wall dresser with paraphernalia required for breakfast or coffee service. A coffee machine conveniently placed servicing complimentary e
spressos or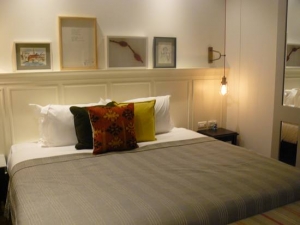 cappuccinos to the hotel  guests on a 24 hour basis was also a sweet touch. Plus, I understood that  on most days between the hours of 5 pm to 8pm  this area is turned into Happy Hour, where wine and other alcoholic and soft beverages are (happily) served.
Huge windows, with inserted arches framed with pale wood, give light and height plus a jolly good view of street life. Under foot near the reception area is a part floor of heavy glass which exposes the archeological remains of a Byzantine structure that once sat on this very site.
There are four floors  comprising of a total of 44 rooms which is quite a large amount on the scale of boutique residences. Room sizes range from 15 square meters to 45 square meters, not inclusive of the balcony which range from two decking seat size to open terrace, many overlooking the m.
Each room is carefully styled in the same fashion, the solid hard wood floors , boarded ceiling, paneled furniture and doors, wooded shutters on the balcony doors or windows. A rail (somewhat like a high dado)  runs the length of one wall displaying  little arty items including a hat. The design concept is with with a focus on
Jaffa
and the history and so four artists were commissioned to create un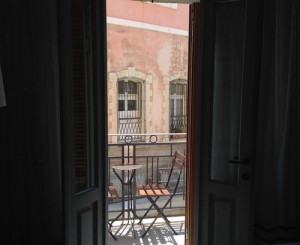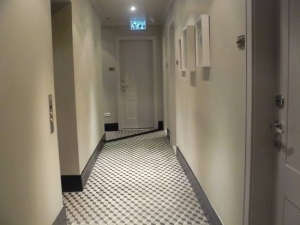 ique art pieces for each room with what they could salvage from the market.
All rooms contain the usual luxuries as one would expect (including free WiFi), 100% cotton bed linen, both feather and synthetic pillows, cotton floor rugs and toiletries specifically selected from dead sea products to ensure that you have the full luxury Israel experience. Two of the rooms boast deep contemporary bath tubs that give the huge Victorian legged versions a licking!
The history too is rather interesting as the structure is 180 years old and was originally a Greek Orthodox Church. In 1948  it became the Headquarters of the Israel Security Agency and thereafter in 1970 until 1990 was used as a Military building. During the early 90's it was bought to be converted into a luxury hotel and, it was at this time whilst digging for foundations that the Byzantine archeological remains were discovered. Unfortunately the project did not progress and lay dormant for twelve years. Four years ago the challenge was taken up once again, this time by
Atlas Boutique Hotels
and hence the Market House Hotel emerged!
A sweet hotel in a wonderfully interesting location, maybe we'll meet up at sweet Happy Hour!
Address: 5 Beit Eshel Street , Jaffa