To maintain the momentum of the new year it seemed timely to expand my drinking  repertoire, so last night I stepped into another era when I entered the Bellboy Bar .
This much "in vogue" bar is situated on the lobby floor of boutique Hotel Berdichevsky (more about that later) and is entered through a dimly lit (Harry Potter style) side entrance.
Stepping inside, I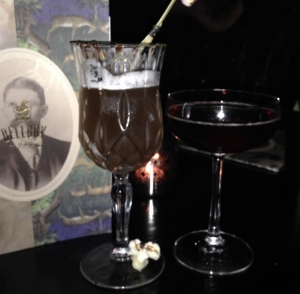 was unexpectedly transported back in time to the 1920's, evoking images in my head of those corny but romantic movies w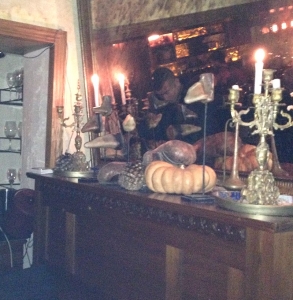 ith elegantly suited gangsters and silky glamorous dames. The room was enclosed in a heavy mysterious darkness, randomly relieved by soft down-light through cone tasseled wall fixtures and free standing retro granny lamps. The smoky smell of smouldering wood essence and burning pine cones (literally !), the blast from the past of jazzy upbeat music and full velvet drapes added to the vintage feel.
The furniture was a mix of round wooded tables, overstuffed and studded comfy sofas and armchairs plus less substantial  parlour (ice cream type) chairs, a solid mirrored dresser laden with candelabras and an array of complimentary ornaments.
The waiters dressed in their waistcoats, finely striped shirts complete with armbands (those stretchy " dont catch your fingers in the loops" that granddad proudly wore) and little dicky bow ties complete the style and add to the atmosphere.
Surprisingly though, the clientele covered all ages groups, from young trendies to the more classic mature and all seemed equally comfortable  enjoying the music and drinks.The bar where the magic is shaken and stirred was polished wood with a back drop of shelves containing a vast amount of bottles- alcohols, syrups and those special potions required to conjure that perfect cocktail ( but not quite as potent fortunately as a Molotov …..)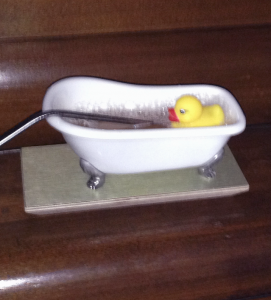 Which brings me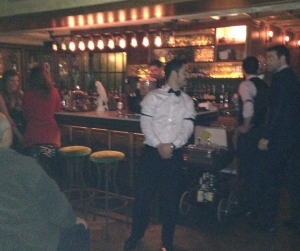 to the cocktails. Based on old favourites, such as whiskey, gin cognac, rum etc, they offer some splendid and tasty concoctions, but what is more initially impressive is how these are presented. Drinks are served in various old fashion glasses such as a flat topped champagne (very glam) plus other vessels,  such as a large conch (sea shell) and a tiny plastic bath complete with rubber duck (I kid you not). Definitely creative- if they were attempting passe!
The food on offer was a wonderful selection of
mezze
, truly scrumptious with well combined ingredients nicely  complimenting the cocktail menu.
The evening was not inexpensive at around NIS50+ for a cocktail but a well worthwhile experience.
♥Bell Boy
Tel: +972-3-7289213
(Reservations are a must)