By now you must be aware that I love eating lunch and no more so than in a 
neighborhood
restaurant. This particular afternoons delight was a little bright corner place in a undeveloped souther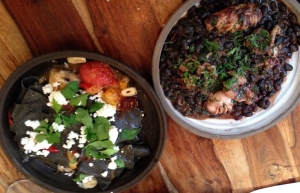 n Tel Aviv district close to streets renown for trading in lighting, soft furnishings, nuts, pu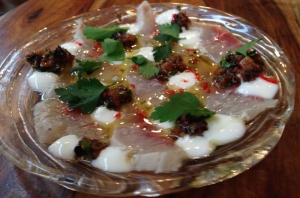 lses, rice and spices. (another story ..)
Established just a a couple of years ago by Chef Avivit Avihai (who was one of the first to  introduce original tapas eating to Tel Aviv) the Ouzeria restaurant, situated on Matalon street, is her new tapas vision based on authentic Greek dishes with her special Israeli interpretation.
The exterior is totaly windowed so you can get to glimpse (and drool) at the array of dishes being eaten by the diners. On entering, I am transported back in time as the odor of
grandmas kitchen
assaults my nostrils. It's a mix of something delicious bubbling on the stove and a warmth in the air which embraces like a hug. Head jerking, foot tapping Greek and Israeli music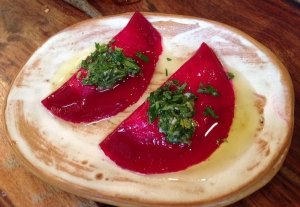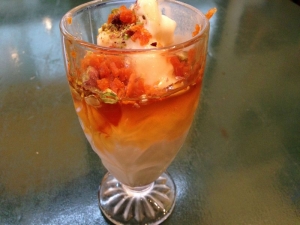 is playing and the diners are either happily munching away or busy chatting to each other (or both) . The interior design is simplistic, some exposed brick work, open bar shelves, plain tables and chairs. However the atmosphere is truly congenial and relaxed, as are the staff.
The special lunch menu is super inspiring, dishes that have real yummy value and at an unbelievable price of 55 NIS (about US$15.00) for starter and main course. Its a steal for Tel Aviv!
The food did not disappoint, it was as mouthwatering as it sounded on the menu, delectable and unique dishes combining fish, beans,
fresh vegetables
, soft goats cheese and so much more.
I can honestly say that this restaurant experience was totally pleasing, even without my little indulgent dessert of Greek yoghurt ice cream, pistachio nuts and honey …
44 Matalon St, Tel Aviv