I just love the Jaffa area with its flea market, retro furniture shops , garden paraphernalia  and bric a brac. So what could be sweeter than sitting amid the heart of the Flea market watching the world go by whilst eating something deliciously fishy. Hubbie decided a little stroll before lunch would increase our appetites (as if we need that) but fortunately after five minutes his enthusiasm waned and w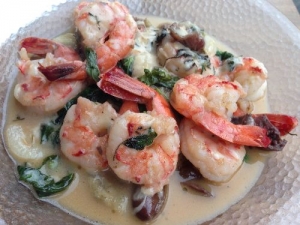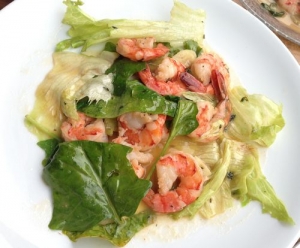 e sat down at a little inconspicuous fish restaurant called Sifo
(Sifo is pronounced in Hebrew as "seafo" which one would mistakenly believe to be a shortening of
seafood , its actually a name.)
This fish and seafood restaurant is owned Eden who is the chef  and Tali who is the manager. The furnishings are simple and wooden and the bar is functional, The staff are chilled and friendly, which is reflected in the atmosphere which is  super relaxed. Located in Nachman Street it is nestled amongst vintage furniture outlets and other eateries.
As is our norm for a weekday afternoon we chose a selection of goodies from the special lunchtime menu, an appetizer, main course, crusty bread and a cold or hot drink at a set price, starting from 65 NIS (which is good value for fish and seafood in the city). I am happy to report that we were not disappointed but very pleasantly surprised with the quality, imagination of ingredients and preparation of the dishes.
We ate (as always) to the full, one succulent prawns with aubergine and mozzarella cheese, saute prawns in white wine garlic laid on a mix of green leaves including lettuce and a specialty of fish kebab served on skewers in a sea of chopped tomato sauce tipped with a hint of green chilli paste.
Sifo is open from 12 noon to about midnight. In the evenings as the weather becomes warmer so do Jaffa nights, each restaurant including this one is buzzing with diners swaying to the music and happening of the sun down Flea market . Sifo itself often arranges special evenings, such as the Moroccan one they recently hosted, or based on food such crab.  Its a super place to munch a lunch but worth a visit too in the evenings
♥Sifo
3 Nachman Street. Jaffa
+972-36038121