After reading my Best Breakfast post my Sweet BFF insisted we have a Tel Aviv lunch at Mashya. Obviously having given her an appetite how could I refuse such a request.  The restaurant has recently opened for lunch service so it was an ideal opportunity for me to indulge in some tasty morsels whi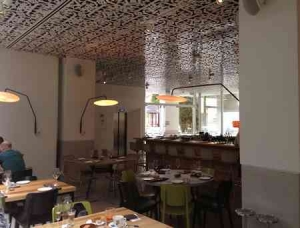 ch would hopefully be as delightful as their breakfast. Of course the real purpose for the trip was to catch up on the news and blues whilst breaking bread in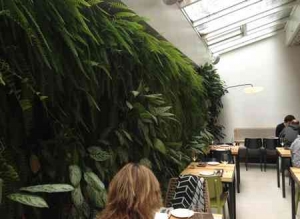 super surroundings.
Parking the car in a Tel Aviv side street in a puddle the size of a pool plus, walking elbow to tit under a childs umbrella in the pouring rain I wondered if we shouldn't have ordered a take out delivered to home. Turning off Frishman Street to Mendeli Street, dodging splashes from passing traffic we eventually arrived at the boutique hotel . Looking dog eared soggy but with rumbling stomachs we entered the dry and welcoming restaurant!
My Sweet green fingered friend adored the gardened wall interior. Fusing over the hues of color, varieties & shapes of this mass of leafy carpet, I was sharply reminded  of her other passion, plants & flora. She loved too the open, easy interior space with ornate tiled ceiling but it was the monster green backdrop that captured her attention. Thinking that I may go into starvation mode, I gently guided her towards the menu and so the growing wall  was temporarily forgotten with full focus on the dishes on offer. We were suitably impressed (in both languages) and, even more so when the diligent and charming duty manager explained the lunch concept.
At lunchtime there is a business menu at Mashya Restaurant. The price is according to the main course selected (from about 96NIS to 139NIS) and includes a mezze of small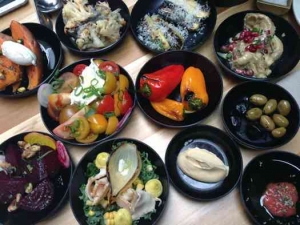 plates filled with pretty & innovative delicacies served to the table from the open buffet area. Also included is a bread basket consisting of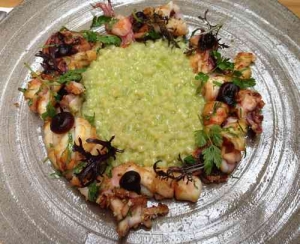 yummy homemade white varieties and a sourced seeded selection alongside green & black olives and mega moreish brown whipped butter. To wash this lot down you get to taste the fluffy headed bubblegum pink Mashya tea. Never fear, served hot or cold ,this  curious but somewhat addictive combination of healthy Hibiscus, cinnamon & cloves is rather refreshing (if you don't look too closely at the color).
We were happily surprised when the empty mezze dishes were whisked away and replenished at such speedy intervals that my food loving friend and yours truly had difficulty keeping up! We decided to refrain eating in excess of the starters, leaving a little space for the main course. I ordered an dish of oxtail which I have loved since a child. What I was served looked very much different to what I expected. The meat had been taken from the bone, long stewed and then baked in the Taboon oven. Ultimately the flavor was strong enough to compete with an ox and although an interesting take on the original, I would have preferred the tender on the bone (tail) version. Sweet girl opted for  creative calamari topped with kisses of soy gel. Her plate was as visually pleasing as it was flavorful, so she was a happy camper.
We just could not leave without having attempted to taste a dessert. What a pudding it was ! More like an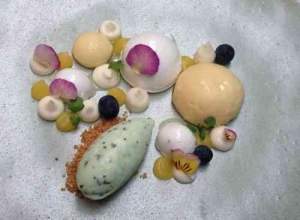 artists garden . Delicious lemon tartlets, mounds of creamy sweetness, berries, minty ice cream on crispy crumbles and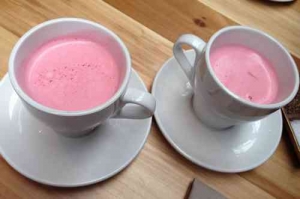 edible flower petals . Truly a masterpiece! Finishing with coffee it was definitely a "palatable" couple of hours, partly due to the excellent service, the enjoyable food and the good company of my BFF.
♥Mashya Restaurant by Yossi Shitrit (chef of Kitchen Market & Onza)
Mendele Hotel
5, Mendele Street
Tel: +972-3-750 0999
Reservations: A must
Breakfast :  Mon to Thurs 9am-11am  Friday & Sat 10.00am- 3.00pm
Lunch :  Sun  to Thurs 12:30 to 3.30 ( No service Friday & Saturday)
Dinner : Mon to Sun– 7.00pm-11pm