Basel in the old North of Tel Aviv is a Sweet self contained area. It's a place I take pleasure in walking the dog whils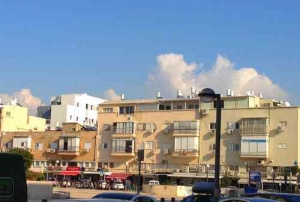 t window shopping. I often visit the bakeries for fresh bread,  the delightful deli for cold cuts and the colorful florist for a bunch of blooms smelling nicer than my sweet furry friend! I meet friends for catch up coffees or leisurely casual lunches in one of the many cafes and eateries situated in the little side streets off Basel square. Like many Tel Avians, I also have the occasional visit to the health center building which hidden among the bag boutiques or shoe shops, somehow makes the journey less worrying.
Once the haunt of the terribly trendy crowd, this area in Tel Aviv has now become the landing point for locals with everything they could possibly require conveniently situated in approximately one kilometer radius. Fridays and Saturdays are favorites of non-residents and out of towners. Queues are created outside the restaurants, designer boutiques are blessedly busy and lovely ladies are blissfully enjoying  long overdue pedicures! Even assertive mothers pushing strollers have a hard time getting a corner seat on a bench.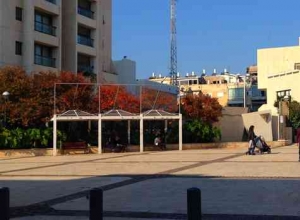 The street
 was named by Theodore Herzl at the first Jewish Congress in 1897, in the city of Basel in Switzerland. Herzl,  known as a visionary force for the State of Israel saw this as one of the first actions towards the creation of the country.
Basel Street at it's full length connects two main bustling streets, Dizengoff  and Ibn Gvirol. However when refering to Basel,  the general focus is at the mid point, the area between Sokolov Street & Yehoshua Ben Nun Street.  It's hard to imagine that this petite, chic neighborhood exists between the established residential buildings and tall towers partly hidden by gorgeous greenery. This is definitely where the action is, a weekday hangout for the unhurried and where a little leg work is quite satisfying!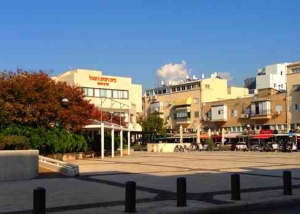 ♥ Basel Street