A bright winter weekend is a fine time to visit the Old Jaffa Port. With the colorful boats anchored in the dock, fishermen angling for a bite or two it makes for an entertaining outing.  The Old Jaffa Port (known as Namal Yafo) is an alluring place. Combining the historic with the creative, and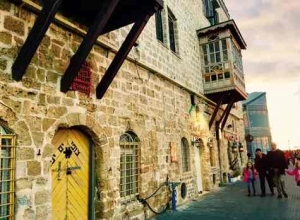 the traditional with the updated. The area retains reminders of the past, with renovated architecture refreshed with a cleaning or coat of paint. The huge metal containers once housing shipments are now utilized as galleries, creative workshops or trendy cafes. Refurbished small stone structures are now used as unique retail out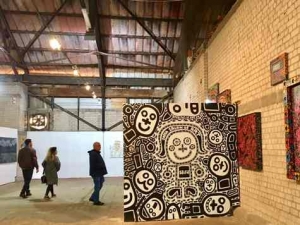 lets and new buildings have been erected for respected restaurants.
With minimal design investment, the Old Jaffa port has a real vibe again. New housing construction near the port in the elegant style of Old Jaffa Port, has the real estate community licking their lips. These new apartments are not only beautiful and sought after, but really expensive too! Sadly out of this Sweet gals league!
The boats that sway in the Old Jaffa Port, give a visual display of color, with green nets, blue canvasses, and red rusted equipment. They do   not pretend to be posh. They are fishing boats,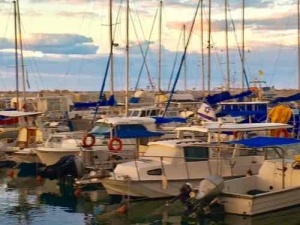 trawlers, ferrying vehicles or family yachts which have worked or entertained for years. It is because the port has not become overly commercialized, that the area has a really authentic feel in this mixed environment.
People from all walks of life, religions and races visit the Old Jaffa P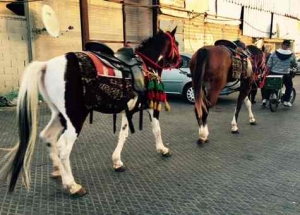 ort. They watch the fisherman patiently reeling in his rod. They stop for a bite or drink, visit an exhibition or simply enjoy the view. The atmosphere is laid back and fun. It has all the characteristics of an earlier period in time but with the essential amenities for locals & tourists alike, including boat trips, horse rides & fish 'n chips!
The Old Jaffa Port is even mentioned in the Holy Bible. It is referred to in the Old Testament in the Book of Jonah and without a doubt  is one of the oldest ports still in existence. It has been in operation from the Canaanite period 3150-1200 B.C.E (approximately corresponding to the start of the Middle Bronze age) until today.
Worthy of a visit and family friendly! Wear comfortable shoes, go with an appetite and a good camera, (get some amazing pics)  Enjoy the Sweet outing!
♥Old Jaffa Port