This weeke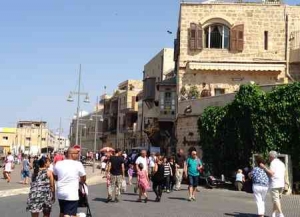 nd searching for an excuse to experience the old world charm of Old Jaffa Port again, I promised to pay for the " to go"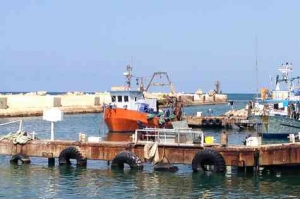 fried fish and chips ! My Sweet friends seemed to think this was a fairly decent deal and accepted the invitation with a sour grace which I can only compare to the sharp vinegar on the chips…
Jaffa Port (Namal Yafo) is a special place. It combines the traditional with the updated  retaining the architecture that was, but with a lick of paint or minimal renovation here and there. Even the boats docked in port do not contrive to be more than they are, hard working fishing boats ,trawlers,  ferrying vehicles or family yachts which have entertained for years. There is an authentic feel among this commercial environment and although filled with people wandering around, a laid back atmosphere. It has all the characteristics of an earlier period in time but with the essential amenities- including a hole in the wall chip shop.
Tatty container buildings  have been upcycled by 'in trend' buzzing bars and cafes, refurbished small stone structures turned into unique retail outlets and new housing e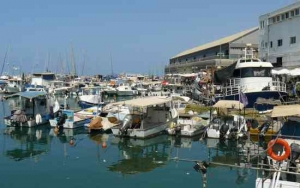 rected for respected restaurants. U
nderfoot the walkways are a complementary  mix of recent smooth paving tile and cobbled stone. Flashes of color emerge from the boats in dock and the mostly blue & white flags flying aloft. The sea is a murky blue with hues of green, but closer to anchor unfortunately shows the disrespect of passing garbage dumpers.
This ancient Jaffa Port has even a biblical mention. It is referred to in the Old Testament in the Book of Jonah and undoubtedly is one of the oldest ports still in existence. Amazingly, it has been in  operation from the Canaanite period 3150-1200 B.C.E (approximately corresponding to the start of the Middle Bronze age) until today.
Well worth a visit.  Stroll the streets, share a palatable but  simple fish & chip lunch from a cardboard container with a friend ( no paper wrap here) and drink a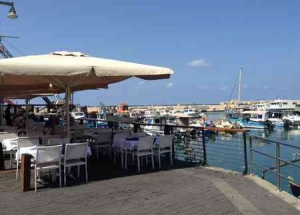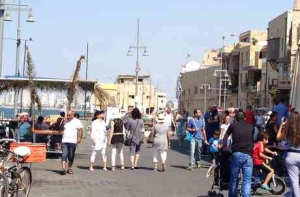 long cold beer at a bar facing this historic port.  Cheers!
♥ Old Jaffa Port