I adore the beach. The grainy feel of the sand, the way it slithers through the toes, but clings like gritty glue to all the wet or sweaty other body parts and migrates into the munchies that you are gobbling down whilst drinking that long, tepid and slightly yeasty tasting light lager…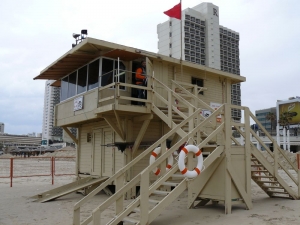 Seriously though, I truly adore the whole Tel Aviv beach experience of sunbathing, paddling , swimming, lunching (of course) and leisurel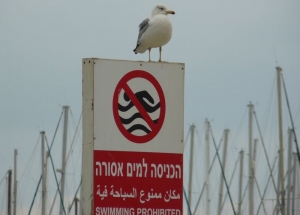 y reading a book which otherwise would still be sitting on the shelf. It's a wonderfully indulgent feeling to spend a few hours laying languidly in the warming sun whilst topping up on the vital vitamin intake. But brrr now its winter…
I miss my beach days, so on Saturday (horribly cold as it was) I took an afternoon stroll, over clad in triple layers of winter beach wear, to the deserted but still attractive Gordon Beach.
On the beach itself, apart from the seagulls who seemed reluctant to dive into the icy deep blue water for nourishment, there were the brave-hard surfers coated in wet suits (like rubbery black condoms) hitting those disappointing ripple waves with vigor, a few stragglers dragging along overdressed and bemused children and the lone (but stilled tanned) life guard.
Stepping onto the wide grey prom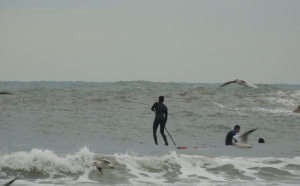 enade, shadowed by towering hotels, it was another story, life was still in full play, Matkot that is.
Matkot is a definite Israeli obsession. In my opinion, it a version of squash with the same swings of aggression when hitting th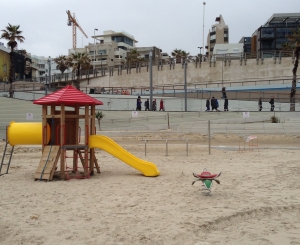 e ball and that heavy popping sound bat to bat. Played with a medium sized hard wooden bat (think large ping pong) and a stone hard tiny black ball ( think WOW pain), this game is played outside in designated areas by passionate and serious players throughout all seasons. It is often too played (in season) by wannabees on the sea shore line.
Further along and to my delight, I heard loud taped music playing and as I reached the asphalted square, the size of a mini ballroom allocated specifically forIsraeli folk dancing, I understood that even the winter chill could not dissuade the hardened traditional (but not professional) dancers from continuing their trance like formation steps.! Dressed in winter woolies they were few, but formidable.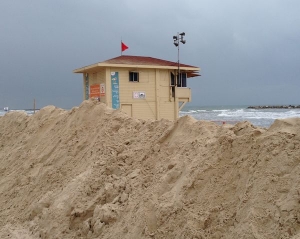 Please note, Israeli folk dancing is something of a phenomenon in itself. People from anywhere just jump in and jig along, jump out and carry on their merry way, it is free….
I can honestly say that I have never seen something like it in all my travels. It's precious!
If you are so inclined to join in when visiting Tel Aviv, take at look at this link I found on You Tube, (pity its not a mobile app) so you can practice before the holiday season! The rain came, offed to home and another
cup of coffee.
.
♥Gordon Beach
Tel Aviv
Preview YouTube video Israeli folk dance at Gordon beach Tel Aviv, Hora Yayin