We were in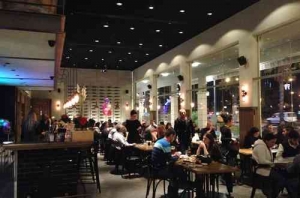 vited to a 'Bye Bye' bash for a Sweet nephew with a urge to see the world. I put my face on, laced my booties a
nd set out to leave Tel Aviv to the southern beach city of Ashkelon. Our destination was a mighty meat restaurant called Tzipora, designed by Geff. Looking forward to the farewell feast, I recalled that a meeting of the complete clan is no easy fete and wondered if I would manage a mouthful let alone a meal! Luckily as I later discovered,  this particular  pow-wow was limited to the closest of the clan so mastication and conversation were both on the menu!
The occasion was as I imagined. Stories of travels, tales of touring, admiration, advise and a sweet sadness that comes with saying bon voyage to a young man who will return with a wisdom of how the outside world works, for good and for bad. So of course, the best way  to send the lad on an adventure…was  to celebrate with memorable food.
Tzipora is a well known chain of  Kosher restaurants specializing in Middle Eastern cuisine, with the focus on meats, skewered or grilled on griddle plates.  They serve steaks, chicken breast, wings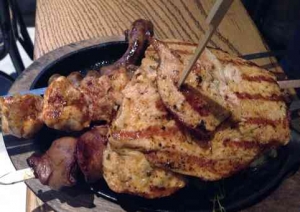 , lamb shawarma and a few fish dishes. Hummus, tahini, falafel, chips and finely chopped salads are the standard and love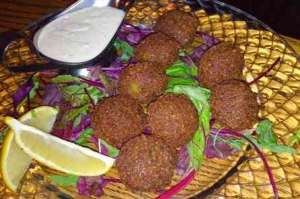 d accompaniments for the main courses. Fresh pita breads or larger flatter laffa delivered in baskets are for dipping and wiping up the plate when a fork is no longer sufficient!
Generally the decor in each of the chains eateries is very similar in concept and design theme- a fast food joint with little frills. However the decor in the Ashkelon branch is somewhat different. This restaurant has been designed by Geff one of the owners, constructed with an interior layout to produce a more relaxing atmosphere. A well stocked bar, rich wood tables and comfortable chairs and a inner elegant balcony  are a masculine touch that would not be out of place in an elegant men's club. The lighting is soft and inviting and on one wall a high resolution flat screened TV. The place is spacious and well thought out with the kitchen to the furthest side from the main seating area. Outside ta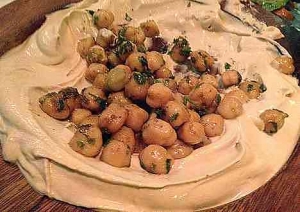 bles for those who wish to indulge in a smoke whilst eating dessert or drinking rich black coffee or mint tea.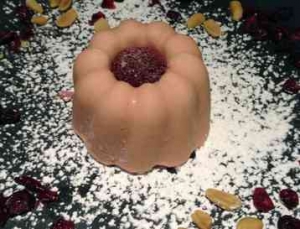 The food was all that we expected of Tzipora. Juicy well cooked meats, tender chicken dishes, sizzling shawama on hot plates and the favorites of all Israelis, fluffy falafel with crunch coating, smooth creamy hummus with beans and flavorful tahini. We dined well, reflected on life and sent nephew on his Sweet way..
♥ Tzipora Ashkelon
Address: 1, Machal Street, Ashkelon
Opening hours: Mon, Thurs, Sun: 12.00pm – 12:00 midnight (or until last diners leave)
Friday : 12.00pm – one hour before Shabbat comes in
Saturday: One hour after Shabbat finishes – 12:00 midnight
Tel: +972-8-6755660
Reservations: Better to book to be on the safe side.