One of amazing things about the human metabolism is that it can burn up (with some encouragement) a large amount of calories from morning nourishment, hence my excuse for my Sweet Tel Aviv breakfast with my equally convinced girlfriend! Of course I don't need much convincin
g to eat, but then again Passover is on the way and bread baskets are out of bounds…..
Girlfriend and I de
cided to take a short trip to Delicatessen, on Yehuda Ha'Levi Street where honestly there ain't much to see, except a few shops and some high buildings. However, being outside in a space not crowded with human traffic, comfortably perched on forgiving seating next to a Parisian style table soaking in the weak but bright sun,  is a treat enough.
The place itself is acurately described by it's name, Delicatessen. It sells delicious breads in all shapes, sizes and ingredient variations, cakes and cookies that just to stare at put weight on, a fully stocked Italian area , with pastas, sauces, tins and jars of savory goodies that make life easier when cooking, tins of olives, cheeses and charcuterie meats, an expose fridge with organic produce, a hot food bar and a flower bar provocatively displaying potted plants and fresh flowers. So I guess it's a one stop place for take away if you wa
nt to impress guests with a decorated table and a selection of good food...
Of course the breakfast is impressive too. A full bread basket including puffy muffins, freshly squeezed orange & lemon juices, plate of gravalax and smoke fish, chunky organic salad, white feta and soft goat cheeses plus true golden yoked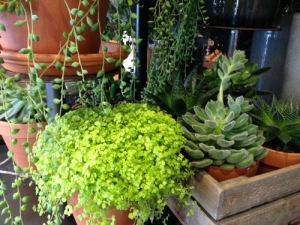 eggs prepared  in any style that takes your fancy. Did I mention the jams, sweet homemade marmalade and strawberry delights or the freshly brewed coffee that you must really sip whilst nibbling that spongy and sweetly satisfying  muffin…Probably not , too busy stuffing my mouth full of food!
A super sweet Tel Aviv breakfast experience and worth doing midday too as there is a special and very tasty luncheon menu which includes a starter and main course for a very reasonable sum… Enjoy!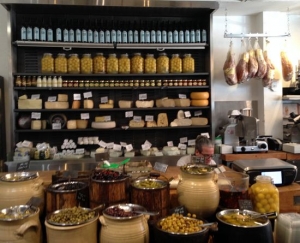 79/81 Yehuda Ha'Levi Street.
Tel: +9723-9681010
Reservations: Just wait for a free table.