In ne
ed of a casual but substantial feed, Sweet girl suggested Bicicletta a bar restaurant in Tel Aviv. Not to deny his daughter anything, my better half agreed w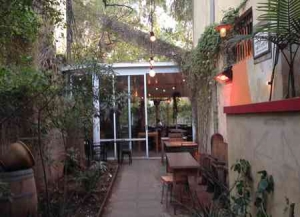 ithout blinking. A pleasure just to have her join us for lunch he was grinning all the way there with attention full on.
Reaching our central Tel Aviv Nachlat Binyamin destination, he was somewhat confused as to where this garden bar restaurant was. Expertly parking the car tight against the pavement, he stomped off and in an authoritative manner went in search of the entrance. Needless to say we giggling girls left him to it…hidden in clear view..
There are two entrances to Bicicletta, (so dont be decieved). The first, is front on the street is through the kitchen / prep area. The second via an alley on the left side which takes you through to part of the garden, a narrow space with some seating adjacent to the indoor space.
We were hap
pily seated in the second garden, a larger version of the walk through. Here was a continuation of the tatty woode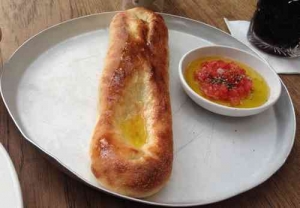 n tables and odd equally tatty chairs. In this secluded area among the leafy trees and plants were interesting corroded metal items. Taken from old equipment, such as a taboon oven, this gave a old world feel to an already grungy place. We sat facing an untouched building in its original form but in crumbling condition which added to the authenticity of the Beer garden. On the ground a little path of yellow painted flag stones reminded me of backyards of yesteryear.
With a little sunshine peeping through and a chill in the air we Sweet girls decided to take warm fruity sangria while the man typically opted for a long beer. The food was pleasantly surprising. Casual like the atmosphere the menu was limited but interesting. Bicicletta concentrates on tapas type dishes with a few traditional favorites thrown in.
We indulged in fish & chips (catfish crispy fried in batter) which was yummy, a lentil masabacha a delicious, creamy combination plus eggplant fries. Mouthwatering pra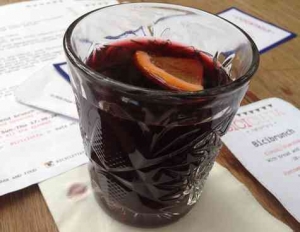 wns on oven baked pota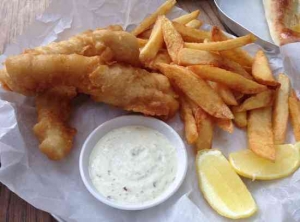 to sprinkled with paprika and a skewer of tasty calamari completed our meal. This was after of course, nibbling on a freshly baked ciabatta  accompanied by a grated tomato olive oil dip.
The place is a hive for locals. It is lively but not overwhelming with laid back staff and a seriously relaxed atmosphere. Especially cool that it's a stones throw from the Carmel market .. shop til you drop and eat to the full! Hope you enjoy!
Address : 29 Nachlat Binyamin Street
Tel : +972-3-643-3097
Opening hours:
Mon-Thu & Sun  5:30 pm – 1:00 am
Fri-Sat: 12:00 pm – 1:00 am